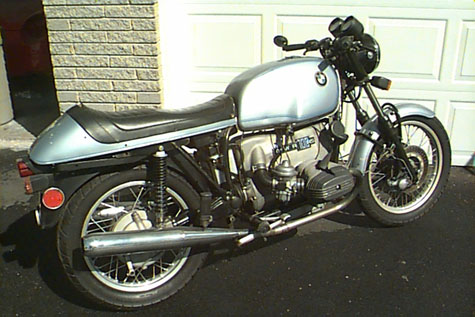 Long time readers will know that I have a real interest in collecting the first year (1977) R100RS bikes. Well, after almost 2 years of looking I tracked down a pretty rare one... This machine is serial # 2 made, and at the moment it's the oldest known surviving US R100RS that there is.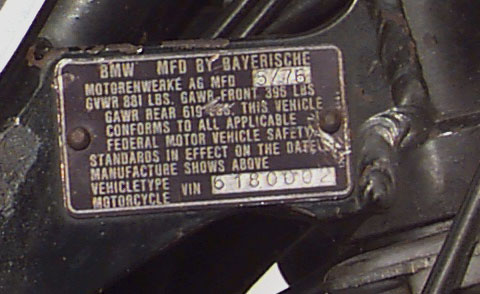 A close-up shot of the frame ID tag shows the mfg. date as May of 1976. That's when 3 pre-production R100RS's (serial # 1, 2, & 3) were built and shipped to Butler & Smith in NJ for promotional & advertising use. Serial #1 & #3 stayed in NJ, and #2 (this bike) was shipped to the Butler & Smith facility in California. Even if serial #1 does show up someday, all three of these machine are pretty unique.
An interesting aside is that I JUST missed out on the Euro-spec serial # 3 bike (built in March of 1976) that came up for sale in Germany about two years ago... I was working with the seller and we agreed on a price, but then another buyer came into the picture and I lost the bike to a more "prestigious sale". That bike ended up going back to BMW Mobile Traditions!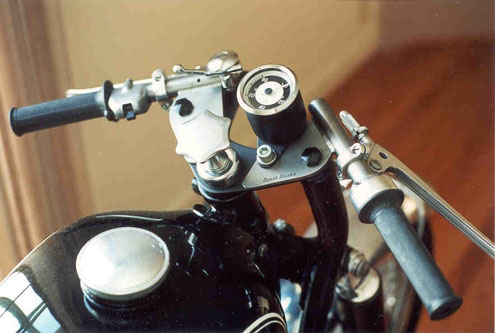 The range of parts offered by Hoske is amazing considering the small size of the market at the time. Here are a set of Hoske clip-on style handlebars. These bolt right to the top triple tree of the 1955-69 Earles fork. You can see the Ernst Hoske name on the throttle side. The underside is also stamped R50 R69, to indicate the models that it fits.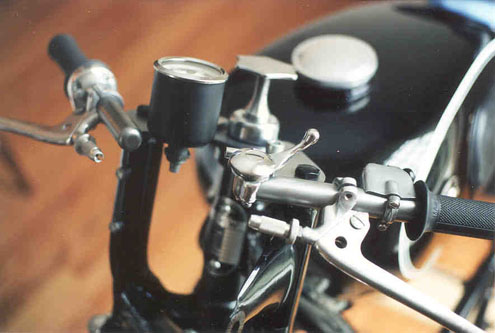 Flip side view of the same bars. Their design allows ample room for the normal handlebar controls and switches to be attached - and they are even drilled to accept wiring for the bar end turn signals! This is also a good view of the Hoske racing levers.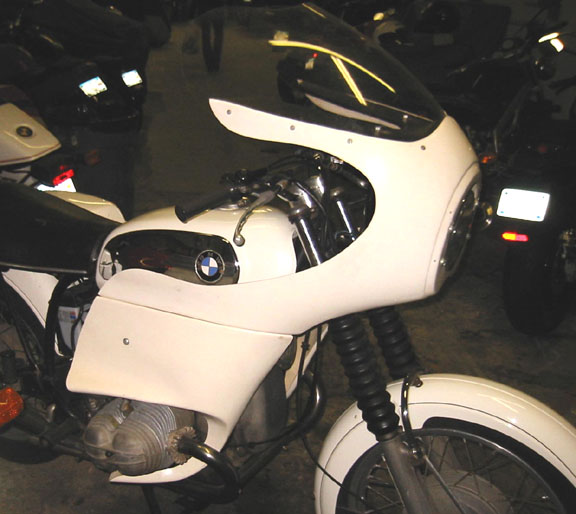 Not seen too often here in the States are BMW products from the Churchgate company in England. Seen here is one of their fairings from the 1970s, this one fitted on a /5.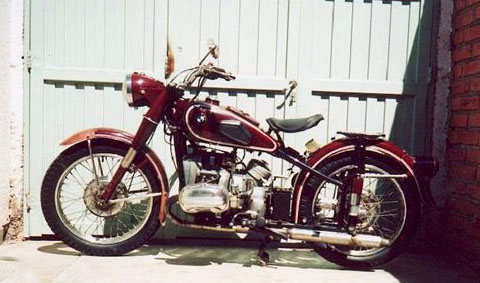 A BMW R6 that came up for sale early in 2003. It appears to be a mix of BMW and maybe Russian parts. The hubs threw me for a while until I realized that they were 1/2 hub drums that were chrome plated - at first glance they looked like full with hubs. Even if the engine is not Russian, with that rear suspension hanging off the back it's for-sure not an R6.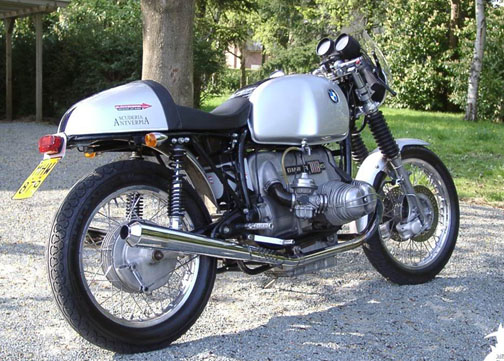 A very nice looking R100RS sport bike coming from one of my web page readers in Belgium. If the sender of this photo is reading this - the return address in your email was not valid, so I was not able to reply to your note. Please write back.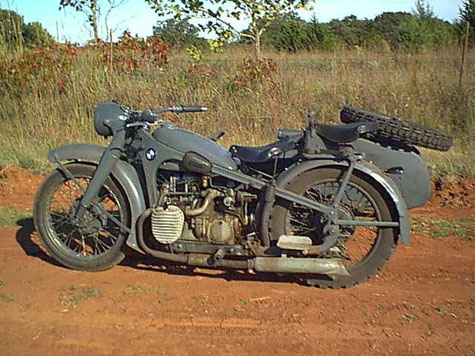 This R12 looks very complete and in pretty good shape. It even looks like the late-war exhaust pipe shields are still there over the pipe (just in front of the foot peg). The headlight might not be correct, but otherwise someone found a very nice old BMW to restore.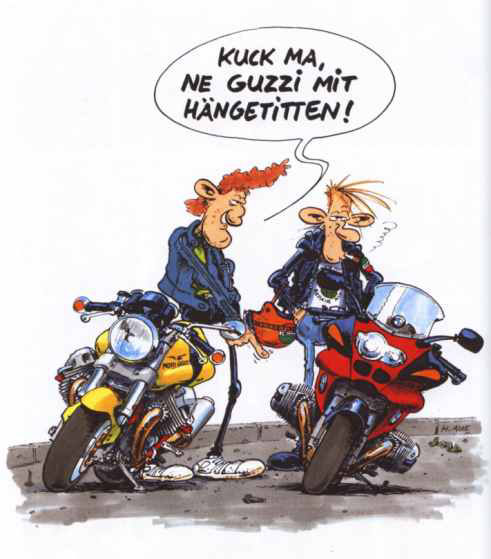 Found on the web - loosely translated it says "Hey look, a Guzzi with sagging boobs".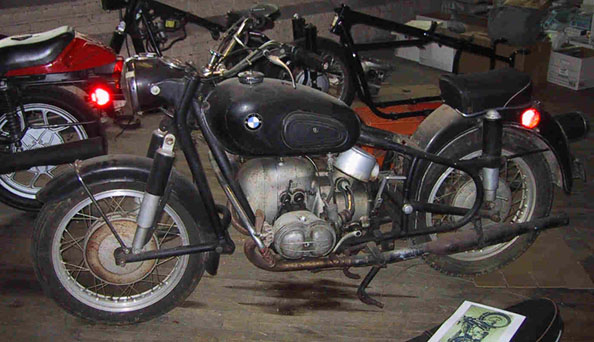 Long time readers know that I have a soft spot for the R50S models. Here's you that one of my web page readers is just getting ready to restore - as soon as he finishes the R51/2 just behind it (bare frame). The tail section of an R65LS in red is just visible to the left - another favorite of mine.