I'm noticing more and more interest in finding and restoring older BMW offroad machines. Not much is known about this one - the current owner wrote in to ask about it, but I'm not that familiar with these machines as I need to be. Anyone out there have some information about what we're looking at?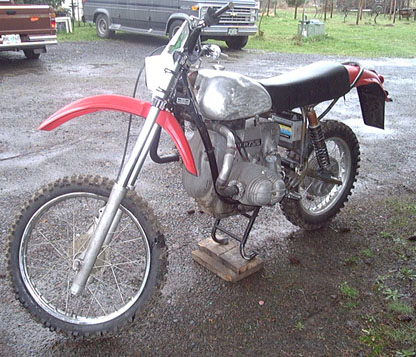 This photo was sent in by another viewer, but this is known to be a reproduction because the owner built it up himself. He based this on photos of other known period BMW offroad bikes. Note the wooden blocks necessary to make the center stand function properly - there's a lot of travel in that suspension!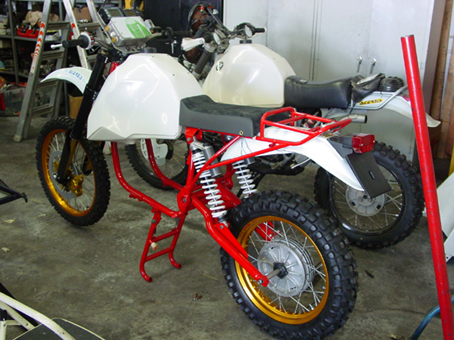 ...and the two photos above prompted another viewer to send in this photo of his own special GS BMWs coming together. These really look almost ready to ride, and are beautifully done.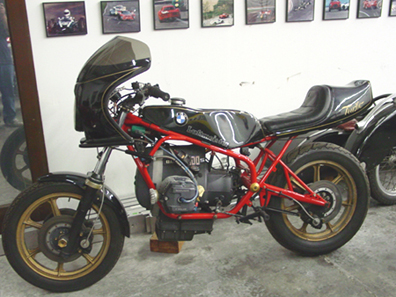 Not a GS, but also very special is this extremely rare Rob North framed BMW. Three of these frames are known to have been made - one of which was campaigned by Reg Pridmore. This one is awaiting restoration back to 1970's AMA racing specification.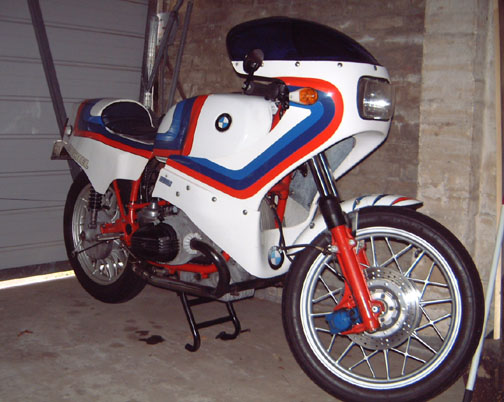 This photo of a Willi Michel BMW comes to us from a reader in Australia. Willi Michel was a BMW factory race car driver that did some wild things with cars and bikes when he retired. He only made a very small number of bikes (less than 20).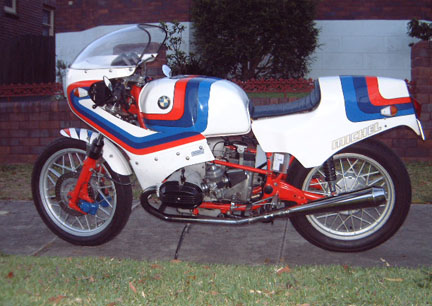 The Willi Michel cafe racer could only be purchased through BMW dealers in either road or full race specification, and it was more expensive than a new R100RS. This is a road version, which came with lights, indicators, etc. It has 44mm valves, ported and polished heads, 336 race camshaft, close ratio indexed gearbox, lightened and balanced flywheel, frame bracing, Willi's own 3/4 race fairing and single ducktail seat.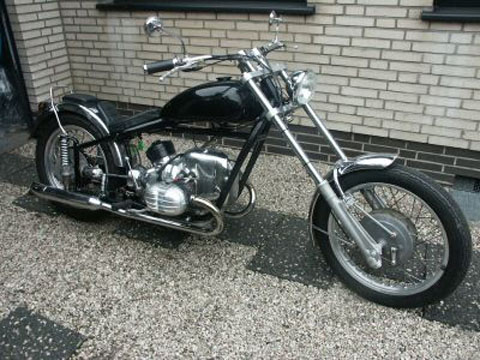 Here's a BMW chopper that was for sale recently in Germany. BMWs don't usually make good choppers, but whoever did this did a damn nice job!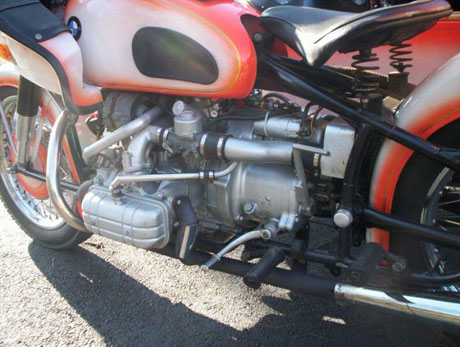 So you've heard of VW engines in a /2 frame? Well how about A Subaru engine in a /2 frame?!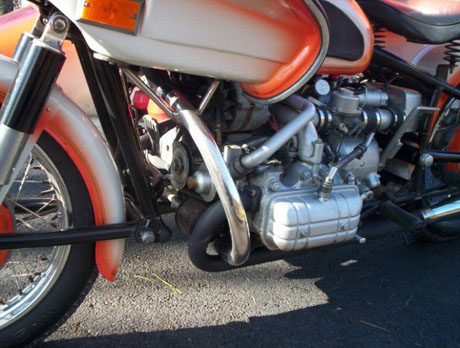 Here's a front view of that conversion. Unlike the VW, the Subaru is water cooled. The owner solved that problem by putting the radiator in the sidecar (barely visible behind the bike). Not much room on the bike itself for a radiator, so I'm not sure we'll see a solo version of this any time soon!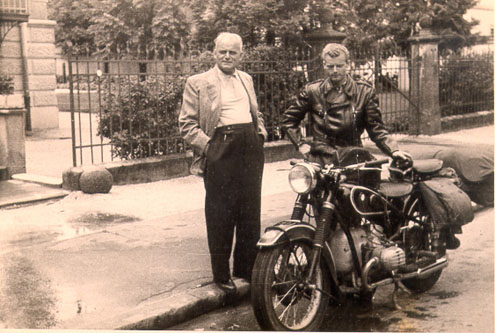 One of my web page readers sent me this photo of his Uncle Heinz on an R51/3. This was taken some time in the late 1950s in Friedburg, Germany.